Sparkle of Life is a new movement that the world has never seen.
It does not even stem from human thought.
It is the future of human awakening.
Sparkle of Life is designed to make people experience that they are so much more than human. We are light beings whose task is to support the Earth's evolution. We do this by connecting everyone's spirit to the Earth and in synergy, raising the frequencies.
Sparkle of Life is about being allowed to experience the sparkle and wonders of life again.
And how privileged we are to contribute to creation and experience this cosmic perspective.
Humanity is currently surviving instead of embracing the magic of life. Sparkle of Life helps you remember how powerful, pure, and beautiful you are when you let your light shine.
In the shadow of the stars, in the essence of our existence, there is a primal force that connects us to all that lives.
We are not mere dust and bones but sparkles of the same Divine light that makes the stars shine. We are the Universe discovering itself, the Source experiencing itself in the dance of life.
Somewhere along our journey, we lost sight of this truth, and with it, our inner spark was extinguished.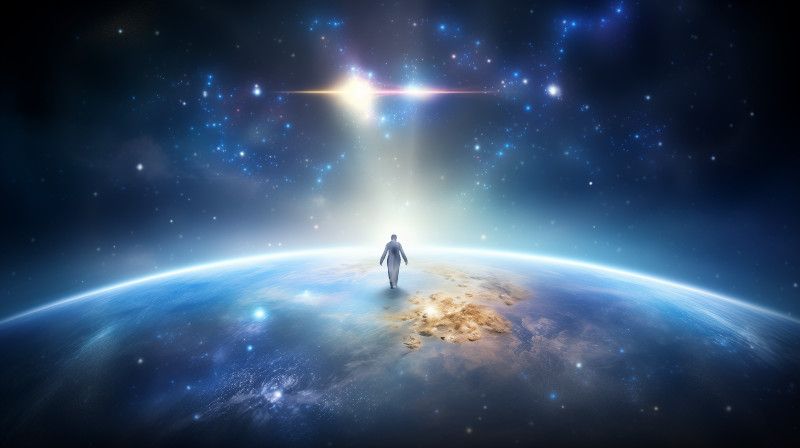 Sparkle of Life is your invitation to embrace the magic of life all over again.
It is a journey that brings you back to your origin and home. A journey that invites you to live with total surrender, harmony, and synchronicity with the Source of all existence.
This is where the magic happens...
Where you discover your true power and where you can connect your spirit to the Earth, so that we as humanity will evolve and grow. Returning to the essence and through rebirth, creating a future that expresses your true potential.
Our unified mission is grand
It is time to start living the way life is meant to be lived.
You are more than just human, so unlearn what you have learned. Look beyond your knowledge. Let go of what you see as truth, and learn to live from cosmic principles. From light, love, and connection.
Resonate with new information and travel on a timeline beyond your imagination. Feel the mystique of surrender and service and become part of a powerful collective dynamic. 

You are the Divine Spark itself. Touch your greatness, resonate with it, and your life will naturally become mystical and majestic.
The Sparkle of Life logo is a portal to your Divine Self.
Janosh, known for his sacred geometry, a language that speaks directly to your soul, was chosen by Hamid, the Entity of the 7th Dimension, to create a logo that would best convey the Sparkle of Life concept. 
In the middle of the night, Janosh was awakened and taken over by Hamid to use his brain and gifts to create a logo that is vibrant and dynamic and a portal to our Higher Consciousness already connected to the new world we all long for.
The symbol helps you attract the right frequency that connects you to your Divine Spark.
Think of it as a code that connects you to your subconscious and your true potential. Take in the mystique of life. 
Just by looking at it, you will fall into wonder. Connect with it, feel it, and your pineal gland will be activated, making it easier for you to connect with the frequency of the Source.
We are merely channels connected to the Source of creation.
We are also students and do not pass on our knowledge and (our own) wisdom. We may let go of everything we know and give permission to be used to pass on knowledge that is not of this time but of the new world that already exists in the future.  
Thus, we gather new knowledge, information, and wisdom, befitting a new reality to be created. And meant for you. One who lives in connection with the Source heals not only themselves at the highest and most profound level but also others.
The Source knows no separation.
The ego is the instrument of duality and separation; it is programmed to give significance to itself and to form our human identity based on what it considers safe or unsafe. But that is no longer necessary.
We invite you to join us in creating the new Earth. Together, we will ensure that the world, like you, will resonate in a higher frequency.
Read Hamid's message here,
the Entity from the 7th dimension who leads our team.
Meet the Facilitators
Through the creators of "Quantum Extrasensory Perception," "Quantum Timeline Jumping," and "From Responding To Creating," Sparkle of Life reveals a groundbreaking story: how centuries of untapped potential and the suppression of Spirit have kept us from thriving in a world of abundance, harmony, and self-actualization.
Roy Martina, Stacey Seedorf, José van der Most 
& Milan Somers
The mission we have voluntarily embraced is to ignite the Sparkle of Life worldwide, to connect every open soul with the new Earthly realm, rising together to a collective harmonious symphony of love.
To us, it is a journey in humility and surrender, and we consider this a sacred message that we do not release for personal gain. It is not for sale; it is a gift, a heavenly gift that we wish to share with humanity. 
Your contribution is the lifeblood of this movement, ensuring that the flames of Sparkle of Life spread to every corner of the Earth. 
In gratitude, we extend to you the first collaborative book, masterclasses, training, and the promise to share more channeled wisdom as soon as it flows through us. Let us unite and illuminate the world with the Sparkle of Life.
The Sparkle of Life Bundle
(Book & Masterclass)
This bundle is a total package for those ready to fully rediscover their Sparkle of Life and reach a new level of spiritual awakening. It is an ideal way to combine the enlightened knowledge of the Sparkle of Life Book with the transcendental experience of the Masterclass.
The online Masterclass provides a connection and depth you cannot experience with the book alone. 
Do you want to experience how it all came about, how the messages are passed on, and how channeling occurs? 
Then, order the Sparkle of Life Bundle and dive deep into the channeled wisdom of Entity Eya and further expand your consciousness with the insights and revelations from the Masterclass and the Book.
Date online Masterclass: December 9 & 10, from 2 p.m. to 6 p.m. CET
Contribution: €41.41 (excluding book shipping and 21% VAT)
Language Masterclass: English with simultaneous translation into Dutch
Language Book: English
Pre-order now
The Sparkle of Life Book
Delve into the sacred realms of existence with the Sparkle of Life Book, a testament to the channeled wisdom of entity Eya, a direct messenger from the Source.
You will also receive:
The video recordings of the channelings

7 activations from Janosh

Exercises & assignments

7 Quantum Jumps
This is not just a book; it is a cosmic guide, illuminating the path to ignite the Sparkle of Life within you, and you will learn the art of embodying your spirit in the 3D reality we call life. Ready to ship in January.
Contribution: €22.22 (excluding book shipping and 9% VAT)
Language: English
Pre-order now
The Sparkle of Life Masterclass (online)
Embark on a metaphysical journey with our masterclass - a live and online channeled initiation experience designed to elevate your consciousness. Immerse yourself in the eternal wisdom in the Sparkle of Life book, and be prepared to receive revelations unknown to humanity.
This knowledge comes directly from Source as a guide to the world, a beacon of higher intelligence guiding us into a new age of enlightenment. This masterclass is not about knowledge but about experiencing and connecting with your origin. 
What can you expect?
Helping to charge the Sparkle Of Life logo energetically

Participate in initiations

Reconnecting Spirit to the Earth

Experience your rebirth as a spiritual human being

Collectively reconnect with the Source of light and love

Live demonstrations of channelings with Sparkle Of Life's astral project leader, Hamid, and with Eya, a light being from the 7th dimension.
Date online Masterclass: December 9 & 10, from 2 p.m. to 6 p.m. CET
Contribution: €33.33 (excluding 21% VAT)

Language Masterclass: English with simultaneous translation into Dutch 
Pre-order now
Sparkle of Life Initiation Experience
Are you wholeheartedly tuning into Sparkle of Life and feeling the calling to create a new world and reality together?
Join us in Curaçao and participate in opening portals and initiations. Exclusively for up to 20 enthusiastic souls who resonate with the essence of Sparkle of Life, the Initiation Experience is an exclusive, intimate event in Curaçao.
You can witness the Sparkle of Life logo being charged through 4 initiations of water, Earth, air, and fire with special channeled ceremonies. You will jump into the unknown with us and experience the very beginning of a movement that has the potential to reach millions of people around the world soon.
We do not know exactly what we are going to do. Hamid's astral team will guide us. What we do know in advance:
After this initiation, you will feel connected to the Sparkle of Life, and you will realize how important and powerful you are as a human being. You will feel what you must do, be even more connected to the Earth and the Source as a spirit, and become deeply connected with the people and entities behind the Sparkle of Life.
Date: Starts December 9 and ends December 14.
The schedule will be channeled. More info to follow if you are interested.
Do you feel you should be a part of this? Send an email to [email protected]
Contribution: €1,212 (incl. VAT and excluding travel, food and drinks, and local transportation).
Can you feel the Sparkle of Life?
As you know, your heart is the channel where the Sparkle of Life comes most fully into play and where we step out of the duality of the ego and directly into the oneness of the new world.
When you, too, begin to experience what it is like to live in connection with Source, you will see every challenge as an invitation. You will enjoy the trust you feel in the Universe. You will navigate through life with synchronicity and become a co-creator of the new world where the ego is subservient to the Sparkle of Life!
We know that you want the best for all generations to come and that you are waking up to the Sparkle you have always carried in your heart. We would love to see you in the Sparkle of Life "tribe," where everyone is a student to ignite the light within themselves to the greatest extent possible.
With grace, ease, and joy.
Since the Big Bang, since the first heartbeat of Source, we have been connected to the essence of life, to the mystical field in which everything is possible.
Quantum science teaches us that we are grand, but we sometimes feel so small.
Now, for the first time in human history, the Earth is mysteriously moving to a higher vibration, and we can experience en masse the resonance of what it is like to live in connection with our Source.
The Universe spoke. Our world became filled with mysticism and synchronicity. And so we landed on a timeline beyond being human.
Beyond tunnel vision, ego, and programming. This is how we see life from a cosmic perspective. From light and love.
We are so much more than human. We are a multidimensional being of light, with abilities that come to light when we connect with our Divine Spark.
Able to connect and communicate with astral helpers from other dimensions. Our body is like an instrument that can resonate with the purest sound from the multiverse.
Thus, with new wisdom from our Source, we can live a new life, as life is meant to be.
When we shine our light on our Source, we can see again how remarkable life actually is, how reality becomes wondrous.
Experience the connection and the Divine Spark for yourself.
The more sparks, the bigger the fire.
The more connection to the field, the higher the frequency of the new Earth.
The stronger the connection, the better you are guided.
With ease.
Because that's what it's all about.
The new Earth is not about thinking but about being.
And doing from being.
This is how you shape the world without having to turn your hand to it.
Living from your Divine Spark is living from effortlessness.
Don't be distracted but led.
Do not be distracted by your thinking, but be guided by your intuitive knowing.
Do not be vulnerable, but be of service.
This is how you feel that you are not small but great.
This is how you feel the frequency of light.
This is how you feel the frequency of love.
This is how you feel the Sparkle of Life.